When it comes to earth-moving and construction projects, excavator buckets play a pivotal role in enhancing efficiency and productivity. Tailored to specific needs, custom excavator buckets can revolutionize the digging, loading, and material handling processes. In this blog, we delve into the significance of custom excavator buckets for distributors seeking to expand their product line. Xuzhou Jiufa Construction Machinery Co., Ltd (XJCM) emerges as the ideal partner, with their expertise in manufacturing top-notch custom excavator buckets.
Why Custom Excavator Buckets Matter
1. Improving Productivity and Performance
Custom excavator buckets are crafted to match diverse applications and site requirements, ensuring optimal performance. Distributors can offer their clients buckets designed for tasks such as trenching, digging, grading, or rock breaking. The right bucket can significantly enhance the efficiency and productivity of an excavator, saving valuable time and labor costs on the job site.
2. Precision Engineering for Durability
Durable excavator buckets can withstand tough working conditions and ensure longevity. With customized options, distributors can provide their customers with buckets made from high-quality materials, reinforced with wear-resistant components, and tailored to specific applications. These buckets can endure heavy loads, abrasive materials, and challenging terrains, minimizing downtime and maintenance expenses for end-users.
Customization: A Key to Success in the Excavator Bucket Industry
1. Personalized Solutions for Diverse Applications
In today's competitive market, one-size-fits-all solutions no longer cut it. Industries such as construction, mining, agriculture, and forestry require excavator buckets tailored to their specific needs. Customization enables distributors to cater to these diverse applications and build stronger relationships with their clients. XJCM has recognized this growing need and has invested significantly in research and development to offer a wide range of custom options.
2. Advanced Engineering and Technology
As excavator technology evolves, so do the demands for more advanced buckets. Clients seek buckets that enhance their machine's performance, improve efficiency, and reduce downtime. XJCM has a team of experienced engineers and cutting-edge technology, ensuring that their custom excavator buckets are designed with precision and innovation. Distributors partnering with XJCM can confidently offer solutions that keep their customers at the forefront of the industry.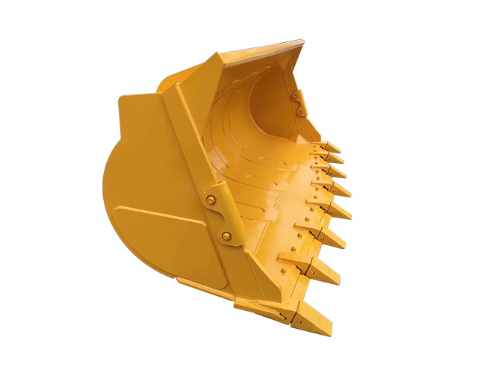 Unearthing the Future: Exploring Excavator Bucket Industry Trends
1. Advancements in Materials and Technology:
One of the prominent trends in the excavator bucket industry revolves around advancements in materials and technology. Manufacturers like XJCM are continually innovating to provide cutting-edge bucket solutions. The utilization of high-strength, wear-resistant materials such as Hardox steel and innovative designs using advanced computer-aided engineering techniques have resulted in buckets that offer superior durability, longevity, and efficiency. Distributors should align themselves with manufacturers like XJCM to meet the market's demand for robust and high-performance excavator buckets.
2. Customization: Catering to Diverse Needs:
Construction projects are increasingly becoming unique and complex, necessitating excavator buckets tailored to specific requirements. This trend toward customization presents an excellent opportunity for wholesale distributors. Collaborating with manufacturers like XJCM, who possess the expertise and flexibility to offer custom excavator buckets, can unlock a wide range of applications. From general digging to specialized tasks like trenching, rock-breaking, and material sorting, the ability to cater to diverse needs will set distributors apart in a competitive market.
3. Environmental Considerations: Green Initiatives:
In recent years, environmental consciousness has become a significant driving force in the construction industry. Excavator bucket manufacturers are responding to this trend by adopting sustainable practices and developing eco-friendly products. XJCM, for example, is at the forefront of producing recyclable buckets and utilizing energy-efficient manufacturing processes. Distributors seeking long-term partnerships should consider aligning with manufacturers that share their commitment to green initiatives, as environmentally-friendly products are becoming increasingly attractive to eco-conscious customers.
The XJCM Advantage
1. Unparalleled Expertise in Manufacturing
Xuzhou Jiufa Construction Machinery Co., Ltd (XJCM) boasts decades of experience in manufacturing heavy machinery and construction equipment, including excavator buckets. Their skilled engineers and technicians are well-versed in crafting custom solutions, meeting the unique demands of diverse industries.
2. Innovative Design and Technology
At XJCM, innovation and technology converge to create excavator buckets that stand out from the competition. Their advanced design techniques, coupled with the use of cutting-edge materials, result in buckets that maximize performance and ensure operator safety. Distributors can confidently offer these state-of-the-art products, gaining a competitive edge in the market.
3. Extensive Range of Customization Options
XJCM understands that each customer's needs vary, and their excavation tasks require tailored solutions. As a partner, XJCM offers distributors an extensive range of customization options for excavator buckets. From bucket size and capacity to tooth configuration and material choices, clients can specify precise requirements for their unique applications.
Collaborating with XJCM: A Win-Win Proposition
1. Expert Technical Support
Collaborating with XJCM goes beyond acquiring custom excavator buckets. Distributors gain access to expert technical support throughout the entire partnership. Whether it's understanding product specifications, resolving technical queries, or receiving guidance on product positioning, XJCM's dedicated team is always available to assist.
2. Efficient Order Fulfillment
XJCM ensures seamless order fulfillment, keeping distributors well-stocked and meeting the demands of their customers promptly. Their streamlined production processes and efficient logistics guarantee timely delivery, reducing lead times and avoiding inventory shortages.
3. Brand Recognition and Trust
XJCM's reputation as a trusted and reliable manufacturer in the construction machinery industry can boost the credibility of distributors. Partnering with XJCM provides an opportunity for distributors to associate with a respected brand, enhancing their own reputation and credibility in the market.
Quality and Durability: Non-negotiable Factors
1. Robust Materials for Endurance
The durability of an excavator bucket is crucial for its longevity and performance. Clients look for buckets that can withstand harsh working conditions and extended usage without compromising on efficiency. XJCM prioritizes the use of high-quality materials in their manufacturing process, ensuring that each custom bucket is built to endure heavy workloads and resist wear and tear.
2. Stringent Quality Control
To maintain its reputation for excellence, XJCM follows a stringent quality control process at every stage of manufacturing. Each custom excavator bucket undergoes thorough inspections to ensure it meets the highest standards. Distributors can be confident in the quality of the products they offer to their customers, leading to increased trust and loyalty.
Conclusion
The importance of custom excavator buckets in construction and earth-moving projects cannot be overstated. Distributors seeking to tap into the growing market demand for specialized excavator buckets can find an ideal partner in Xuzhou Jiufa Construction Machinery Co., Ltd (XJCM). With their extensive experience, innovative technology, and commitment to customization, XJCM empowers distributors to offer top-quality products that meet the unique needs of their clients. Embrace the opportunity to expand your product line and meet customer demands with custom excavator buckets from XJCM.