It is very important to find some suitable loader bucket manufacturers to get quality products. Because, in the world of construction, time is of the essence. Every project demands efficiency, productivity, and precision to meet deadlines and deliver outstanding results.
One crucial component in construction equipment that significantly influences performance is the loader bucket.
Choosing the right loader bucket manufacturer can make a significant difference in enhancing efficiency on construction sites. In this blog, we will explore the benefits of selecting reputable loader bucket manufacturers and how they can help optimize construction operations.
What Is A Loader Bucket?
A loader bucket, also known as a front-end loader bucket or simply a bucket, is an attachment used in construction machinery, particularly on loaders or front-end loaders. It is a large, open container-like structure made of heavy-duty steel that is mounted on the front of a loader.
The primary purpose of a loader bucket is to scoop, lift, transport, and deposit various materials such as soil, gravel, sand, rocks, debris, or other loose materials. It is commonly used in construction, mining, landscaping, agriculture, and other industries where material handling and earthmoving tasks are involved.
Loader buckets come in different sizes and configurations, allowing them to be versatile and adaptable to different applications. The shape and design of the bucket may vary depending on the specific requirements of the job.
Some buckets have teeth or cutting edges on the front edge to aid in digging and cutting through materials, while others have smooth edges for handling delicate materials or for leveling surfaces.
How To Find Reliable Loader Bucket Manufacturers? What Qualities Will They Have?
Finding reliable loader bucket manufacturers is crucial to ensure the quality, durability, and performance of the equipment. Here are some key qualities to look for when searching for reputable loader bucket manufacturers:
Industry Experience:
Reliable manufacturers often have years of experience in the construction equipment industry. Look for manufacturers with a proven track record and a long history of producing high-quality loader buckets. Established manufacturers have accumulated knowledge and expertise over time, leading to better products.
XJCM, a crane manufacturer and loader bucket manufacturer from China, has more than 20 years of production experience. Since 2002, they have successively invested in the introduction of advanced mechanical processing and testing equipment to improve product quality.
Today, they have the production organization and processing capacity of more than 3,000 sets of large-scale construction machinery and equipment.
Material Selection and Engineering:
Pay attention to the materials used in the construction of loader buckets. Reliable manufacturers use high-quality, durable materials such as high-grade steel. They employ advanced engineering techniques and design principles to ensure the buckets can withstand the demanding conditions of construction sites.
In some manufacturing processes, XJCM is more careful than other loader bucket manufacturers. All steel plates, profiles of important parts, and heavily corroded profiles will be subjected to double-sided shot blasting, sandblasting, or shot blasting. This will give the metal surface an even, close-to-white effect.
Customization Capabilities:
Loader bucket manufacturers that offer customization options demonstrate their flexibility and willingness to meet specific customer requirements.
Look for manufacturers who can collaborate with you to design and build loader buckets tailored to your project needs. Customization options can include bucket shape, size, additional features, or specialized attachments.
In addition, XJCM also has a very patient and full-process after-sales service. For every product, whether it is resolved through video calls or conferences, they will be very serious about helping customers solve problems.
One Stand Out Of Many Other Loader Bucket Manufacturers: XJCM
As mentioned above, XJCM is a company with rich experience, high-quality products, and considerate service, which is a better choice than ordinary loader bucket manufacturers. Here is a customizable loader bucket from XJCM for you:
1. Customizable Capacity: Tailored to Your Application Needs
XJCM offers customizable loader buckets with varying capacities to match the specific requirements of your application. Whether you need a smaller bucket for precise material handling or a larger one for increased productivity, XJCM can design a bucket with the perfect capacity for your job.
This customization ensures optimal efficiency and maximizes the loader's performance.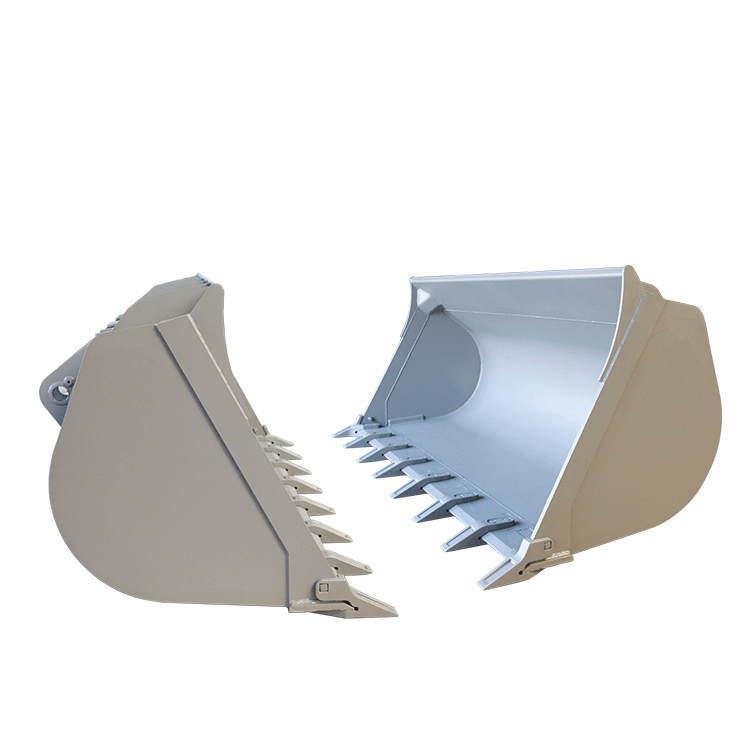 2. Versatile Width and Depth: Accommodating Various Materials
The XJCM loader buckets can be designed with varying widths and depths to accommodate different types of materials and loading requirements. Whether you're working with loose soil, dense gravel, or bulky rocks, XJCM can customize the bucket dimensions to ensure efficient material handling.
The versatility in width and depth allows for precise loading and optimal bucket fill, reducing the number of cycles required to complete tasks.
3. Cutting-Edge Options: Boosting Cutting Power and Durability
XJCM's customizable buckets can be equipped with a range of cutting edges to enhance cutting power and extend the bucket's lifespan. Options such as teeth, bolt-on edges, or replaceable wear strips are available to suit your specific needs.
These cutting-edge features improve the bucket's ability to dig into and penetrate various materials, resulting in increased efficiency and reduced wear and tear.
4. Quality Material Composition: Strength, Durability, and Resistance
XJCM use high-quality materials in the construction of their loader buckets. With options including steel, aluminum, or composite materials, XJCM ensures that its buckets possess excellent strength, durability, and resistance to abrasion and corrosion.
The carefully chosen material composition guarantees a reliable and long-lasting performance, even in challenging construction environments.
5. Specialty Features for Enhanced Functionality
XJCM offers the option to incorporate special features into their custom buckets. These features may include grappling arms, rippers, or vibratory compactors, depending on your specific application needs.
By integrating these additional capabilities, XJCM's loader buckets provide enhanced functionality, making them versatile tools that can tackle a wide range of construction tasks with ease.
Final words:
Investing in loader buckets from better manufacturers can greatly enhance efficiency in construction projects. The benefits of selecting reputable manufacturers include superior quality and durability, customization options, increased efficiency, enhanced safety features, and reliable after-sales support.
By choosing loader bucket manufacturers that prioritize these aspects, construction companies can optimize their operations, reduce downtime, and deliver projects on time and within budget.