Established in 2002, Xuzhou Jiufa Construction Machinery Co., Ltd (XJCM) is a renowned Tower Crane Manufacturer with an impressive investment capital of RMB 76 million. The company boasts an expansive area of 53 thousand square meters, with 38 thousand square meters dedicated to its state-of-the-art workshops. XJCM has earned a reputation as an excellent machinery supplier and is known for providing top-notch products to some of the most prominent machinery companies in China.
1. Advanced Equipment for Optimal Performance
XJCM takes pride in having more than 260 pieces of advanced equipment, enabling them to maintain a competitive edge in the industry. This sophisticated machinery facilitates the production of high-quality construction machinery and equipment that meets stringent standards.
2. Diverse Customer Base and Trust from Clients
XJCM's commitment to quality and customer satisfaction has earned the trust of an extensive clientele. Some of their notable clients include Diamond Projects Malta, AGRO ACCESSORIES (N.Z.) LIMITED, Avsrya Construction, BALBANS GROUP&INVESTMENT LTD., SWISS GRADE CONSULT LIMITED, SAMAD RESOURCES LTD., Tayo Property Management Ltd., and more. With a 95% customer satisfaction rate, XJCM's dedication to meeting client needs is evident.
3. Construction Machinery Business
With years of experience, XJCM has become a leading manufacturer of large-scale construction machinery and equipment. Their investment in advanced machining and testing equipment has equipped them with the capability to produce over 3,000 sets of top-of-the-line construction machinery. The entire production process, from material preparation to welding, machining, shot blasting, and painting, undergoes rigorous quality checks, solidifying their reputation in the industry.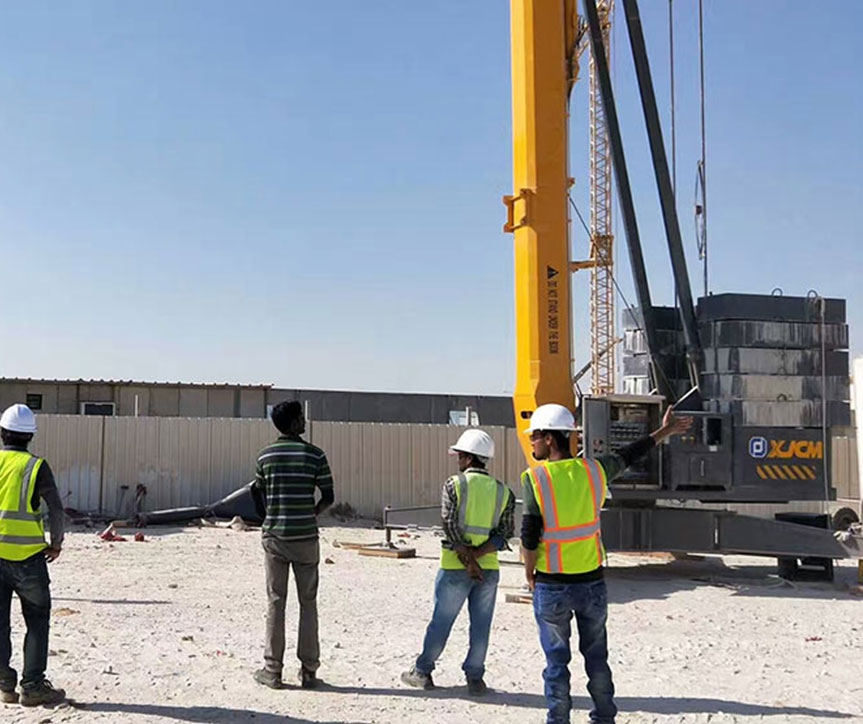 4. High-Quality Product and Stringent Production Procedures
XJCM ensures that their engineering machinery structural parts undergo strict production procedures. Steel plates, profiles of critical components, and profiles with heavy rust corrosion all undergo double-sided shot blasting, sandblasting, or shot peening to achieve uniform and nearly white metal surfaces. This meticulous approach guarantees the production of high-quality products that meet the highest industry standards.
5. Dedicated After-Sales Service
Customer satisfaction is paramount at XJCM. They provide dedicated after-sales service for every product they sell. Whether through video conferences, telephone communication, or in-person visits, the company is committed to addressing customer needs promptly and effectively. Putting their customers first has been the cornerstone of their success.
6. Industry Certifications
XJCM takes pride in its technical quality assurance management system, which has led them to achieve significant certifications, including the ISO9001 quality management system, ISO18001 occupational health and safety management system, CE certification, and GOST certification. Moreover, the company holds 56 patented technologies, comprising 15 invention patents and 41 utility model patents, further demonstrating its commitment to innovation and excellence.
Tower Crane Manufacturers: Meeting the Needs of the Construction Industry
1. Construction Companies: The Perfect Fit for Project Specifications
Construction companies are the primary users of tower cranes, and they seek equipment that aligns precisely with their project requirements. Tower Crane Manufacturer like XJCM understand the importance of offering a wide range of models, each catering to specific lifting capacities, reach, and height needs. They work closely with construction companies to analyze the project's parameters, site conditions, and lifting demands to recommend the most suitable crane models. From compact city sites to large-scale infrastructure projects, manufacturers ensure their cranes are versatile enough to handle any challenge.
2. Engineers and Architects: Safety and Structural Integrity
Engineers and architects are the masterminds behind the grand designs that grace our skylines. When collaborating with tower crane manufacturers, they focus on safety and structural integrity. XJCM and other reputable manufacturers involve these professionals in the design and engineering process, seeking their valuable input to optimize crane performance. Engineers ensure that the cranes are robust enough to withstand the dynamic loads and heights encountered during construction, while architects look for features that maximize visibility and minimize the crane's impact on the overall aesthetics of the project.
3. Regulatory Authorities: Compliance and Safety Standards
Safety is paramount in the construction industry, and tower cranes are subject to stringent regulations and safety standards set by different authorities in various regions. Tower crane manufacturers work diligently with regulatory bodies to ensure their products meet or exceed these requirements. XJCM, for instance, takes compliance seriously and ensures that its cranes undergo rigorous testing and certification to guarantee adherence to all necessary safety guidelines. Collaborating with regulatory authorities also helps manufacturers stay updated with any new or evolving safety standards.
4. Crane Operators: Training and Skill Enhancement
The safe operation of tower cranes relies heavily on the competence of crane operators. Manufacturers understand the significance of proper training and skill enhancement for these professionals. They often collaborate with crane operator training organizations to develop comprehensive training programs. XJCM invests in training initiatives that educate operators about the features, controls, and safety protocols of their cranes. This approach not only enhances the safety of construction sites but also ensures the optimal performance of their equipment under skilled hands.
5. Maintenance and Service Providers: Support and Reliability
After tower cranes are installed, they require regular maintenance and occasional repairs to ensure peak performance and safety. Tower crane manufacturers like XJCM recognize the importance of providing robust support to their customers throughout the crane's lifecycle. They collaborate with maintenance and service providers to offer comprehensive support services, spare parts availability, and technical assistance. Manufacturers work diligently to minimize downtime, enabling construction companies to complete their projects efficiently and within the scheduled timeline.
Conclusion
Xuzhou Jiufa Construction Machinery Co., Ltd (XJCM) has emerged as a trusted Tower Crane Manufacturer and a leader in the construction machinery industry. With a strong focus on advanced technology, strict quality control, and exceptional customer service, XJCM has built a solid reputation as an excellent supplier. Whether it's catering to famous machinery companies in China or satisfying an international clientele, XJCM's commitment to excellence continues to propel its success in the global market.