Truck cranes have become indispensable in the construction and logistics industries due to their versatility and efficiency. When it comes to choosing the right truck crane, finding a reliable truck cranes OEM manufacturer is crucial.
In this blog post, we will explore the advantages of XJCM as a truck cranes OEM manufacturer, highlighting their mature technology, competitive pricing, and excellent after-sale service.
Furthermore, we will delve into the various models and features offered by XJCM, emphasizing their commitment to customization and providing structural components such as crane jibs, booms, and frames.
XJCM – A Trusted Truck Cranes OEM Manufacturer:
Established in 2002, XJCM truck cranes OEM manufacturer has emerged as a reliable and trusted OEM manufacturer of truck cranes.
With a substantial investment capital of RMB76 million and a sprawling facility spanning 53 thousand square meters, 38 thousand of which are dedicated to workshops, XJCM truck cranes OEM manufacturer demonstrates a commitment to excellence in both infrastructure and production capabilities.
From the very beginning, XJCM has prioritized technological advancement and quality control. The company has consistently invested in cutting-edge machining and testing equipment, enabling them to achieve a remarkable production capacity of over 3,000 sets of large-scale construction machinery and equipment.
This extensive production organization and processing capacity allow XJCM truck cranes OEM manufacturers to meet the diverse demands of their customers efficiently.
At XJCM truck cranes OEM manufacturer, every step of the manufacturing process is executed with meticulous attention to detail and strict management. From material preparation to welding, machining, and shot blasting painting, every stage is closely monitored to ensure the highest quality standards.
Each structural component undergoes thorough checks, guaranteeing the durability, reliability, and safety of XJCM's truck cranes.
Exploring The Features Of XJCM Truck Cranes:
XJCM trucks are equipped with a host of features that make them one of the most sought-after truck cranes on the market today. These include:
A. Famous Brand Chassis
XJCM truck cranes adopt renowned brand chassis, which ensures the overall reliability and performance of the crane. The separation of the drive cab and operator cab enhances maneuverability and operator comfort, contributing to increased productivity on the job site.
B. Diverse Model Range
XJCM offers a wide range of truck crane models, ranging from 12-ton to 130-ton capacities. These cranes are designed to meet the specific needs of different industries and applications. Whether it's a small-scale construction project or heavy-duty lifting tasks, XJCM truck cranes OEM manufacturer has the perfect truck crane solution.
C. Innovative Control Technology
XJCM's QY12 ton-130 ton series of truck cranes incorporate PLC programmable integrated control technology extensively. This advanced technology enhances the overall efficiency, reliability, and safety of the cranes. Customers can rely on XJCM's truck cranes to deliver superior performance while maintaining ease of operation.
XJCM's Truck Cranes Are Suitable For Various Truck Models:
XJCM understands that different industries and applications require truck cranes that can be seamlessly integrated with specific truck models.
As a truck cranes OEM manufacturer, XJCM provides services for a wide range of truck models, ensuring compatibility and optimal performance. Here are a few examples of truck models that XJCM caters to:
a. International Brands
XJCM works closely with international truck brands to develop truck crane superstructures that are tailored to their specifications.
Whether it's collaborating with well-known brands like Volvo, Mercedes-Benz, or Scania, XJCM has the expertise and flexibility to design and manufacture truck cranes that perfectly complement these truck models.
This close partnership allows XJCM to ensure that their truck cranes integrate seamlessly with the chassis, resulting in enhanced performance and reliability.
b. Domestic Brands
In addition to international brands, XJCM also provides services for various domestic truck manufacturers. Popular domestic truck brands such as Dongfeng, FAW, and Foton can benefit from XJCM's expertise in designing and manufacturing truck cranes that are specifically optimized for their models.
By leveraging their knowledge of the local market and understanding the unique requirements of domestic truck manufacturers, XJCM can deliver customized solutions that meet the specific needs of these brands.
c. Specialized Trucks
XJCM's commitment to serving various truck models extends beyond standard truck brands. They also cater to specialized trucks used in specific industries. For instance, XJCM can provide truck cranes suitable for off-road trucks used in mining or construction sites.
These specialty trucks often require custom solutions to withstand harsh operating conditions. And XJCM's engineering team can design and manufacture truck cranes that meet these demanding requirements.
By servicing various truck models. XJCM ensures customers get the perfect match for their specific truck make and application.
This commitment to compatibility and customization is further underscored. XJCM is committed to the determination to provide comprehensive solutions for the diverse needs of the industry.
Structural Components and Accessories:
XJCM is not only good at manufacturing complete truck cranes. A variety of structural components and accessories are also available to enhance the functionality and versatility of the crane.
These carefully engineered components such as crane jibs, booms and frames. It is tailored to meet the specific needs of customers in different industries.
Crane Jibs
XJCM understands that different lifting tasks require varying reach and flexibility. To address this, they offer custom crane jibs that can be easily attached to their truck cranes. These crane jibs extend the reach of the crane, allowing for precise positioning of loads in hard-to-reach areas.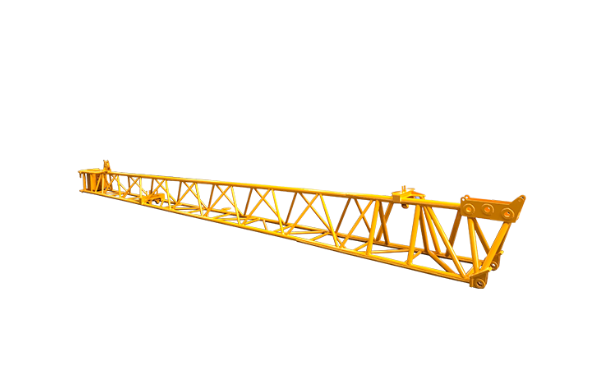 Crane Booms
Available in various lengths and configurations, their crane booms are designed to meet the specific requirements of different lifting applications. From telescopic booms for extended reach to luffing booms for precise maneuverability, XJCM offers a diverse range of options to cater to the unique needs of its customers.
Accessories and Attachments
In addition to the core structural components, XJCM offers a range of accessories and attachments that further enhance the versatility and adaptability of their truck cranes.
These accessories include outriggers for increased stability during lifting operations, winches for specialized lifting requirements, and various lifting hooks and attachments for specific load-handling needs.
Final words:
As a truck cranes OEM manufacturer, XJCM has demonstrated its commitment to delivering high-quality, reliable, and customizable solutions.
With their mature technology, competitive pricing, and exceptional after-sale service, XJCM has earned a reputation as a trusted partner for industries requiring truck cranes.
By choosing XJCM, customers gain access to a diverse range of models, innovative control technology, and the option for customization.